Ho Ngoc Ha has published never-before-seen images of Lisa and Leon. She recalls the difficulties when her two children had to be put on breathing tubes because they were born prematurely.
A few hours ago, Ho Ngoc Ha first shared a small story during the birth of Lisa and Leon that touched many people. Few people would have expected that both Lisa and Leon were born prematurely and had to have a breathing tube plugged in.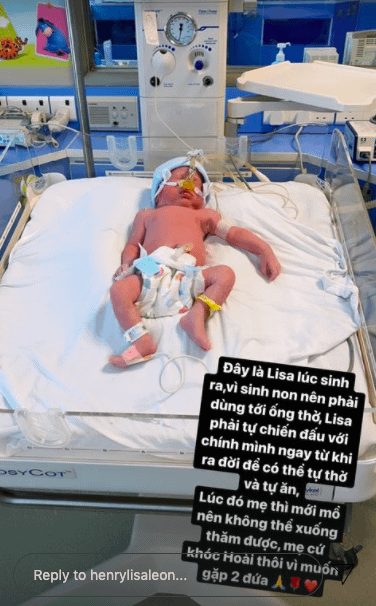 Because she was born prematurely and had to use a breathing tube, Lisa had to fight with herself since birth to be able to breathe and feed herself. At that time, my mother had just had surgery, so she couldn't come down to visit. She kept crying because she wanted to see the two of them together. "Ho Ngoc Ha shared about Lisa.
Like Lisa, Leon was also quite weak when he was born: "And this is me, Leon. I am also even weaker than Lisa. When I pulled him out, he only squealed for an hour and then kept quiet. I want to stop breathing. The doctors are all trying to focus and make the right decisions to cure it in time. Overnight, the doctor still said that only 10 days would be determined to see the baby."
Thanks to the enthusiastic care from the team of doctors as well as the strength of the two Ha Ho children, after only 1 day, Lisa and Leon were able to breathe on their own. The above story of the voice of "a whole heaven of love" makes everyone feel touched and happy for the female singer.
Before that, Ho Ngoc Ha talked about her children many times on social networks. She once shared: "I can't sleep these days, moms! Keep haunting the departure of the mother, and the children are helpless. Just look at me and love me and thank you for this time. Do not struggle with work; spend time with your family. How precious it is to wake up every morning to see these angels grow up. To live is to find happiness.
Being the mother of these angels is a great blessing. Life can be very long when living without a purpose, without a lover. But it will never be enough when I have too many desires to make my loved ones very happy."
Ho Ngoc Ha's sharing has received much public approval, especially for those who are mothers, just need to pass each day peacefully, watching the children grow up is a happy thing.